Deck Staining in Reseda, California
All City Painting is proud to offer deck staining and deck restoration in Reseda, California.
Sun exposure, wind, and rain can damage the surface of your Reseda California deck in no time! UV rays and moisture can damage deck surfaces that have lost their protective seal. let the experts at All City Painting restore your deck's beauty and protect your investment. All City Painting's Reseda, California deck staining specialists have years of experience in caring for decks.
---
Call for a FREE Quote
---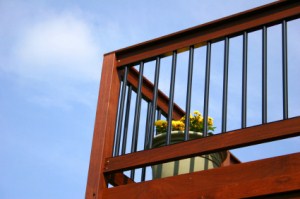 Reseda Deck Staining Preparation
No deck staining job in Reseda is too big or too small. All City Painting will prepare your deck in its entirety prior to staining or painting:
First, we will thoroughly pressure wash the deck, ensuring that all dirt, mildew, moss, and any damaged surface wood fibers have been carefully cleaned leaving behind a smooth, ready-for-stain surface.
Rough areas are sanded as needed to restore a smooth finish.
Then, All City Painting will then help you choose the right stain or paint to compliment your home and landscaping.
Finally, we carefully apply one or more coatings of high-grade paint or stain that can withstand the damaging heat and UV of the summer sun, the cold of winter, and regular exposure to moisture.
Rest assured your Reseda deck staining project is in good hands with the high-quality painters at All City Painting. We have been staining and painting decks in Reseda for over 22 years, and we look forward to enhancing yours! Call (310) 504-2170.
All City Painting Can Stain Any Deck in Reseda!
All City Painting's 22 years of experience allow us to be prepared to stain any Reseda deck. We offer affordable services to our clientele that are always completed in a timely manner. All City Painting can help your deck look great and be the envy of the neighborhood, so give us a call at (310) 504-2170 to get started on your Reseda deck staining project
---
Call for FREE Deck Staining Quote
---